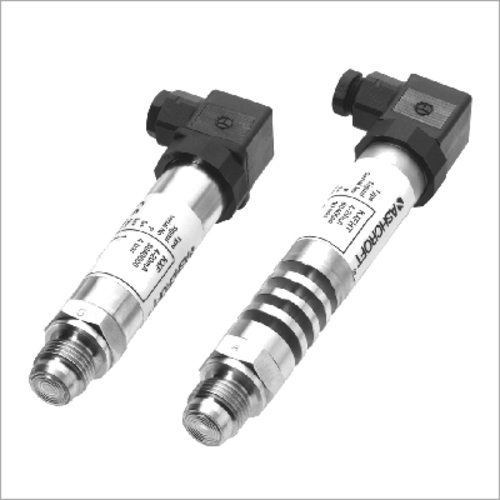 Product Description
We are a noted trader of Pressure Transducer to our widely spread clients. It is precisely engineered using high tech material and machinery as per the set industrial norms and standards. Our experts conduct various quality inspections to ensure that no compromise is done with its quality. Pressure Transducer hence stands high on performance, efficiency, durability, strength and corrosion resistance. Clients can avail it from us at highly affordable prices. We strive to make delivery within a given time frame.
Complete stainless steel thin film sensor with flush mounted stainless steel diaphragm
Accuracy : 0,5 % and 1 % F.S.
Features :

Flush mounted diaphragm
Sanitary application
High temperature model up to 200 °C medium temperature
Excellent long term stability
Protection IP65
Proof (intrinsically safe) for zone 1 and 2 according ATEX
Ranges :

- 1 ... 1,5 bar up to 0 ... 600 bar
-30 in. Hg ... 20 psi up to 0 ... 8.700 psi
Technical specification

KXF

KXFHT

KXF (Ext)

Measuring principle
Range in bar
Overpressure limit in bar
Pressure type

Thinfilm
1 2,5 4 6 10 16 25 40 60 100 160 250 400 600
6 6 10 14 20 40 70 100 138 200 304 525 640 900
Gauge, vacuum and compound

Process connection

G ½ A male according DIN 3852 with metal seal cone at the top
G ½ A male with O-ring and sealing ring
½ NPT male according ANSI/ASME B1.20.1, others on request

Material
Process connection
Diaphragm
Transmission liquid
Sensor
Case

Stainless steel 316Ti (1.4571)
Stainless steel 316Ti (1.4571), Hastelloy C (only ½ NPT male)
Silicon oil, Halocarbon or Almond oil
Stainless steel diaphragm 1.4542/1.4548 (17-4PH) with polysilicium cell
Stainless steel 304 (1.4301)

Silicon oil

Power supply
Output signal

12 ... 30 VDC
4 ... 20 mA, 2-wire
0 ... 10 VDC, 3-wire
0 ... 5 VDC, 3-wire
1 ... 5/6 VDC, 3-wire
0 ... 20 mA, 3-wire

12 ... 26 VDC
4 ... 20 mA, 2-wire

Maximum loop resistance for 4 ... 20 mA

≤ (UB - 9 V) / 0,02 A

≤ (UB - 11,2 V) / 0,02 A

Proof (intrinsically safe)




EEx ib IIC T6 or T5 according to PTB 02 ATEX 2194

Isolation between
case and electrical connection
Isolation voltage
Supply current

> 1 MÃŽ© at 50 VDC
350 VAC
Max. 5 mA for VDC output, 20 mA for 4 ... 20 mA output signal

Accuracy according DIN 16 086
(terminal point)
Repeatability
Response time (10 ... 90 %)

0,5 % F.S., 1,0 % F.S. for ranges 1 bar, 2,5 bar and 600 bar
Please advise/note inclination of mounting position
≤ ±0,15 % F.S.
≤ 5 ms

Permissible
Operation temperature
Medium temperature
Storage temperature

-30 ... 85 °C
-30 ... 100 °C
-400...100 °C

-30 ... 85 °C
-30 ... 200 °C (Silicon oil)
-30 ... 150 °C (Halocarbon)
0... 130 °C (Almond oil)

For T5 and T6 (EEx ib)
-20 ... 60 °C T6
-20 ... 75 °C T5
-20 ... 60 °C T6
-20 ... 75 °C T5

Compensated temperature
Temperature influence
Medium temperature influence
Shock resistance
Vibration
Noise of output signal

-20 ... 70 °C
±0,3 % / 10 K from 0 ... 50 °C (ref. 20 °C) for > 10 bar
±1,2 % / 10 K from 0 ... 50 °C (ref. 20 °C) for ≤ 10 bar
±0,2 % / 10 K
At 20 g / 20 ms ≤ 0,1 % F.S.
≤ 0,1 % F.S. for 0 ... 400 Hz, 20 g in all directions according IEC 770
≤ 0,02 % F.S.

CE-mark/EMC

Emission according EN 50 081-1 (March 1993)
Immunity according EN 50 082-2 (March 1995)

Electrical connection

4 PIN angle connector according EN 175301-803, cable connection, field housing

Protection according EN 60 529/IEC 529

IP65, optional IP68

IP65 for dust with cable connection
IP65 for gas with angle connector
IP67 for gas with cable connection

Weight in kg

0,25

0,4

0,25

Accessories, options

Weld in adapter